Frédéric Chopin was gay, but his homosexuality has been longly hidden or passed over in silence: both when he was alive and after his death by his biographers.
This is what the journalist and musician Moritz Weber demonstrates on the basis of the private letters of the Polish composer, in a two-hour radio investigation aired on the Swiss public broadcaster SRF titled "Chopin's men". 
It would not be the first time that the gay or bisexual orientation of some artists, writers and historical figures has been omitted: it started with Sappho, especially if these artists lived in times when homosexuality was considered a perversion or a disease. 
Weber explains: "Chopin deliberately separated his inner feelings from what he showed on the outside. He paid close attention to the way he appeared to the public, a recurring motif in his letters and a feature that was also observed by those around him. We must keep the cloak to cover hidden feelings" as it can also be read in a letter dated May 15, 1830 and quoted by SRF during the live.
"As always, I take your letters with me. It will be so nice for me to pull out your letter and know that you love me. Or at least to look at the handwriting and the hand of the one I can only love." Chopin writes to Tytus Woyciechowski, on March 27, 1830. Chopin had known him since they were both students in Warsaw. After leaving Poland at the age of twenty, the composer maintained contacts with him for a long time. Just in 1830, as Weber reconstructs, Chopin spent two weeks in the farm Tytus owned in Poland, then in November the two went together to Vienna. "I received the letter in which you told me to kiss you," Chopin writes to Tytus a year earlier (November 14, 1829).
Weber explains: "Chopin wrote to these men in Polish. For many researchers, this is a barrier that can hardly be overcome. They must therefore rely on translations. However, many translations have serious errors. In some places, for example, Polish masculine pronouns are translated into English feminine pronouns. This is the case of a passage from a letter to Tytus dated 3rd October 1829 in which Chopin writes: «I have my ideal, which I faithfully serve, and with which I have not spoken for six months, the ideal that I dreamed of for six months, and in whose memory the Adagio of my concert was born, which this morning inspired this waltz that I am sending you»". 
Yet a translation of Chopin's letters published in 2016 by Warsaw's Fryderyk Chopin Institute assigns the "ideal" in the letter a feminine pronoun ("not having spoken to her for half a year now") even though the Polish noun is masculine.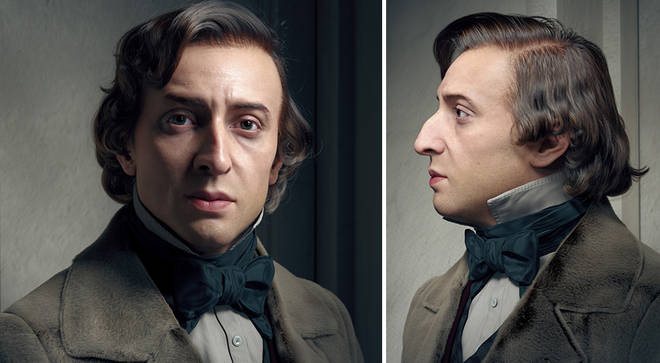 The Guardian contacted David Frick, a former Yale professor and English translator of Chopin's letters, who admitted that Chopin could refer to Tytius Woyciechowski, but denied he had intentionally manipulated the letters and said there was no conspiracy behind the missing missives of the composer's lovers, which have never been found. 
Of course, Chopin at that time had every interest in not letting people know he was gay, and therefore he never denied the rumours about his relationships with women (until a few years ago, even an intellectual like Susan Sontag denied evidence of having lesbian relationships).
Did Chopin also have relationships with women? 
"Most researchers now agree that Chopin's much-described" relationship "with writer George Sand was not a love story in the conventional sense. For him it was probably more of a partnership of convenience," writes Weber. And SRF Radio adds that "the famous winter trip to the then exotic Majorca" appears very different from an idyll if you read how the two protagonists write about it later: "Sand writes that it was torture for her", Chopin says it was "a torment".
Weber verified with the Chopin Institute in Warsaw (the most renowned Polish archive and study center on the composer) the validity of the reconstructions that attribute to Chopin two other relationships with Polish women: with the soprano Konstancja Gladkowska and with the sixteen year old Maria Wodzinska with whom he would have been engaged. 
"We actually have nothing on K. Gładkowska. We have nothing with Wodzinska," The Institute spokesman Aleksander Laskowski told Weber. Despite this, the 2018 biography of Chopin by Anglo-Canadian musicologist Alan Walker, who calls Tytus a "close friend" of Chopin, states that his erotic letters to men were the product of a "psychological confusion", a "mental twist", which diverted sexual desire towards his friend "which should have been more properly addressed to Konstancja [Gladkowska]" [Isnt' this adverb not just the but manifestation of a prejudice? e.n.].
"Chopin's relations with women were just rumours, based on flowery notes in the biographies of the previous two centuries. Neither the Chopin Institute nor its biographers have been able to provide any evidence," Weber confirms. 
According to the Swiss journalist, Tytus was not the only man Chopin loved or had passional relation-ships with. There are other "boys" that Chopin met when he was a young student, like Jan Matuszynski, medical student and flautist, who lived from1834 to 1836 with Chopin in the famous Chaussé d'Antin of Paris. Julian Fontana, pianist and copyist, who lived with Chopin at the Chaussée d'Antin from 1836 to 1838. Antoni Wodzinski, former fighter for the independence of Poland in the uprisings of November 1930, to whom Chopin wrote: "Believe me, I think of you as I think of Tytus".
Chopin is considered a national monument in Poland, but homosexuality is openly opposed in the country: the president, Andrzej Duda, defines the movement for LGBT+ rights as an "ideology worse than communism". Correct translations of the letters could create some embarrassment to Polish pride, and who know if those correct translations will ever become reality.