Historical win for the long-lasting Festival of the Italian Song – Sanremo 2021 – that sees a rock band winning the competition against all odds.
It was already over 2 am in Italy and the Festival of Sanremo 2021 crowned their winner. Måneskin triumphed on that stage and demonstrated (again) to the whole world – actually shocking Italy – that talent shows do work and are able to discover amazing talents.
Månesking is an Italian rock band consisting of lead vocalist Damiano David, bassist Victoria De Angelis, guitarist Thomas Raggi, and drummer Ethan Torchio. The band rose to fame after ending up second in the 12th Italian version of XFactor (2017).
"Zitti e Buoni" (tr. shut up and calm) is a rock song that will shake the stage of Eurovision Song Contest 2021 in Rotterdam, were Måneskin will represent Italy.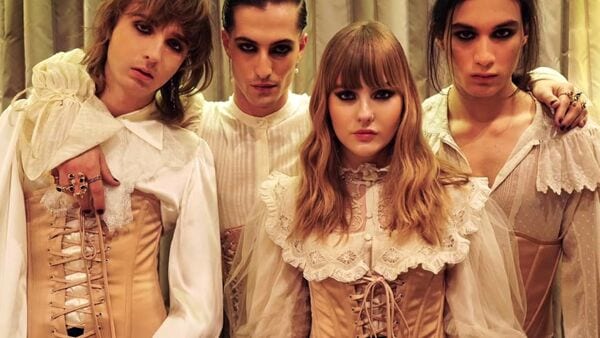 Speaking to Soundblog about this song, Måneskin said: "Ours is not an anger towards someone, but an anger that moves, that creates revolutions, a cathartic anger aimed at oppressions and oppressors, which leads to venting and rebelling against everything that makes you feel wrong and which, as a result, leads to a rebirth and change. We wanted to place this very powerful force in a context, that of the theater, which in the common imagination is perceived as elegant and calm. We like this antithesis: a contrast that lives when the curtain opens and, instead of a show or a ballet, we find ourselves catapulted into this explosion of energy. Theater is a metaphor to represent art, the place where this powerful impulse generates something artistic and positive ".
For the very first time Italy will try to rock the audience of Eurovision, letting all ESC Aficionados forget about the sweet-pop-electro Italian style, and replacing it with pure but still very pleasant rock!
Will this work?
Will this allow Italy to win again Eurovision? Maybe yes! We are simply thrilled for this huge change of style on the podium of a such a classical Festival like Sanremo is.
Remember to comment Eurovision Song Contest 2021 with us on social networks using the hashtags #Titina21 #Esc2021
https://www.youtube.com/watch?v=1OISmX4vOKA